News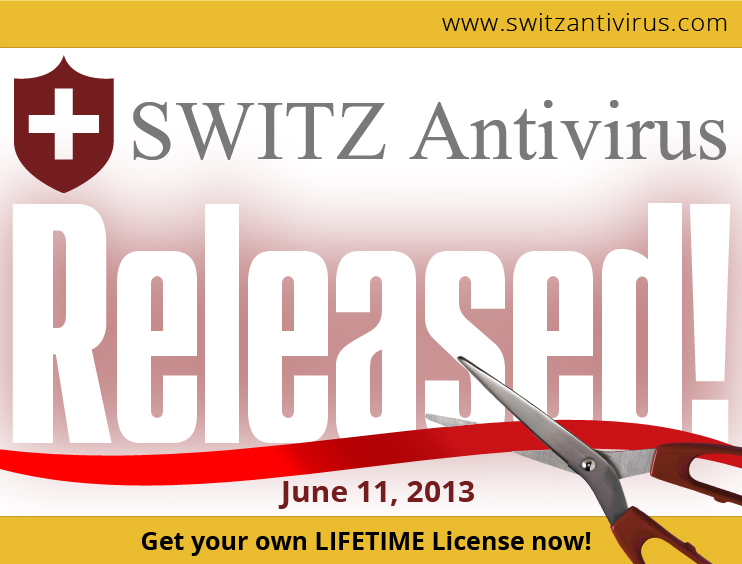 Ladies and gentlemen!
On 11th of June, 2013 the world of software, designed to protect us from malicious software and cyber crooks, was enriched with a unique development - SWITZ Antivirus 2013.
SWITZ Antivirus 2013 represents a comprehensive solution that provides PC and internet users with reliable protection based on the best achievements of security software industry.
The key modules of the program aimed to maximize level of protection are:
Guard system - a module to search and detect viruses in real-time
Firewall, intended to identify and block all threats in the Internet
Heuristic analyzer - proactive defense module, a system that provide protection against malicious programs that have not been previously recorded in the database
USB
Mail scanner - scanning module of e-mail, blocking the penetration of threats via emails
What's new in SWITZ Antivirus 2013?
SWITZ Antivirus can be safely presented through the lens of innovations! There are main peculiarities of the product which reflect its uniqueness:
License Policy. A person can purchase SWITZ Antivirus only with a LIFETIME LICENCE that is not limited in terms of using the program. Usually, the purchased antivirus software is limited for 1 or 2 years of validity period, with the continued need to renew the license on a paid basis.
Heuristic analyzer. Modern antivirus, as a means of protection against cyber threats, depends on the amount of databases of previously identified malicious program. It means that antiviruses provide protection in the form of a response to a specific threat "post factum".
SWITZ Antivirus developers have created unique system of analysis, which allows the program to determine the level of software harmfulness according to its interaction with the system and implemented elements of its code.
So, even if the newly created virus is not listed in the virus database, it will be identified and eliminated.
More information about the technical characteristics of SWITZ Antivirus, as a comprehensive program to protect your cyberspace, you will find on the official website of the program: http://switzantivirus.com/
SWITZ Antivirus is available to purchase from June 17, 2013 on all major software portals worldwide. Don't miss a chance to be the first owner of SWITZ Antivirus, software made in the spirit of quality and reliability of SWISS Made products!